Early Career
Begin your journey with ServiceNow
Join a team where you can grow, live your best life, and do your best work. Together, we can make the world work better for everyone.
Chart your path with exceptional early career experiences
Internships & co-op programs
Internships & co-op programs
At ServiceNow, we're dedicated to helping you learn and grow by giving you the chance to work on meaningful projects, receive valuable mentorship, and experience day-to-day life at our company.

We have internship opportunities in the US, the Asia-Pacific region, and Europe for undergraduate and postgraduate students, including MBAs and PhDs. We also offer six-month marketing co-op opportunities during the school year, in the US only.
Find Out More
Full-time opportunities
ServiceNow offers various early career full-time opportunities to help you do your best work and own your career goals. We understand the innovation and creativity you can bring to the table, and we're committed to helping you unleash your full purpose and potential with us.

Take advantage of professional development workshops, skills training, networking opportunities, leadership exposure, ongoing constructive feedback, and on-demand, self-paced learning courses.

Some of these opportunities include Finance Rotations, Solution Consulting Academy, and more.
Find Out More
Upcoming events and workshops
Learn more about ServiceNow, our teams, and our culture through our virtual or in-person events. We host open houses, office hours, professional development workshops, and much more, all to help you further develop your career.
Register For Events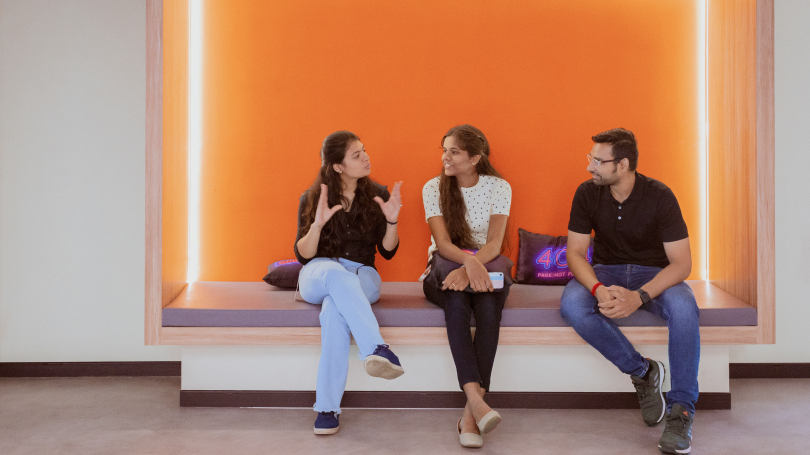 Asking tough questions, finding better solutions
We're changing the way the world works, bringing together new ideas and points of view to create a more equitable and sustainable future. If you want to change the world, we want you.
I didn't think that they made internships that were that specific. It felt like it was shining at me, like it was exactly what I wanted to do!
Katie S.
Recruiter
Former ServiceNow Intern
Early career stories
Don't take our word for it—see what interns and others have to say about ServiceNow.
Frequently asked questions
We offer internships globally in the US, Asia-Pacific region, and Europe. Our internship programs typically range from three to six months. Internships in the US take place during the summer from May to September.
More details can be found in the description on our job postings.
Eligibility varies according to each role. To find out if you're eligible, please take a look at our current job postings.
We welcome talent from all backgrounds and skill levels to come build their career at our company or on our platform. Learn in-demand ServiceNow platform skills and build a high-earning and meaningful career with one of our 10,000+ partner and customer organizations.​ Or, grow your career at ServiceNow with a culture rooted in learning, well-being, and belonging.
First, you'll need to submit an application. Then, if you've met our minimum qualifications and the hiring team is interested, a recruiter will get in touch with you.
Absolutely! If you see another opportunity that interests you, we welcome you to apply again.
You're welcome to apply to as many positions as you like. But we recommend that you narrow it down, so you can focus on your top choices.
Not at the moment. But we'd love for you to apply as soon as you begin your undergraduate studies! We look forward to your continued interest in ServiceNow.
Yes—in the US, we offer six-month co-ops in marketing from January to June (applications generally open in September) and July to December (applications generally open in January). Roles can be remote or hybrid/flexible based on business needs. 
It depends on the opportunity. Please refer to the individual job description you're interested in—as sponsorships vary by country and business unit.
Yes, they're paid! Compensation for ServiceNow co-ops, internships, and other seasonal work opportunities is generally competitive with the market for that role.
Yes. We pride ourselves on being able to offer our interns either a post-graduation employment opportunity or an option to return the following summer as an intern—if they haven't graduated by that time. Offers are dependent on the individual intern's success and performance as well as business needs.
To help our employees live their best lives and do their best work, we've created the Launchpad Development Program. This 18-month program is designed to empower our early career colleagues to build the skills and capabilities they need to thrive at ServiceNow. Networking opportunities are also available, delivered via virtual facilitator-led sessions and supplemented by on-demand, self-paced learning.
Want to learn more about our early career programs and our company culture?
Follow Us
ServiceNow is an Equal Employment Opportunity Employer. All qualified applicants will receive consideration for employment without regard to race, color, creed, religion, sex, sexual orientation, national origin or nationality, ancestry, age, disability, gender identity or expression, marital status, veteran status or any other category protected by law.